https://www.thefamouspeople.com/prof...vergs-5996.php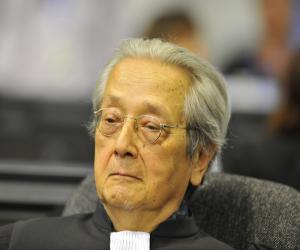 Also Known As: Jacques Verges
Famous As: Lawyer
Died At Age: 88
Sun Sign: Pisces
Born In: Ubon Ratchathani
Father: Raymond Vergès
Siblings: Paul Vergès
Spouse/Ex-Spouse: Djamila Bouhired
Children: Jacquou Vergès, Liess Vergès, Meriem Vergès
Place Of Death: Paris

Jacques Vergès was a celebrity lawyer in France. Jacques was born to a mixed race couple. As a result of Jacques and his twin brother's births, their father was forced to emigrate to another country to keep his government job. Vergès grew up proud of his multi-ethnic heritage, and as a teenager voluntarily enlisted in the military. After an extended service during the war, he enrolled in law school in Paris.

He found his vocation as a student leader, first representing students of color and then the youth wing of an international political movement. After several years of political agitation work in another country, Vergès returned to Paris to practice law. One of his first controversial clients was a woman accused of participating in violent resistance to the colonial occupation of her homeland.

After Jacques successfully saw her conviction pardoned, he married her. He was briefly imprisoned and lost his license to practice law as the state tried to discourage him from representing clients facing terrorism charges. After a mysterious and lengthy hiatus from both his public and private life, Vergès returned to Paris and continued to defend a number of notorious clients, including former heads of state and accused war criminals. After a lengthy career in the public eye, Vergès passed away from natural causes.
After returning to practice law in France in 1978, he defended a number of individuals accused of terrorism, including Georges Ibrahim Abdallah and members of the 'Baader Meinhof gang'.
In 1982, he defended Magdalena Kopp, the romantic partner of the terrorist Ilich Ramirez Sanchez, better known as 'Carlos the Jackal'. Twelve years later, the attorney briefly worked on Sanchez's defense team.
In 1987, he achieved worldwide notoriety after defending Nazi leader Klaus Barbie. Barbie was later convicted on 341 charges of crimes against humanity.
In 1999, the legal practitioner sued 'Amnesty International' for his client, the government of Togo. The Togolese government was upset about the non-profit's report on Togolese governmental massacres ahead of local elections.
He sued an author of a book, in 2001, on behalf of the heads of state of the Republic of the Congo, Gabon and Chad. The author successfully defended his work at the 'European Convention on Human Rights'.
In 2007, a documentary about the attorney was released entitled 'L'Avocat de la terreur' or 'Terror's Lawyer' in the English version.
In 2008, he was hired as part of a legal team to represent several former leaders of the Iraqi government. That same year, he wrote a play about himself entitled 'Serial Defender' and performed as himself at the 'Theatre de la Madeleine' in Paris.
In April 2011, Khieu Samphan, the former head of state of the Khmer Republic, was represented by Vergès during Cambodia's genocide tribunal.